Wooliedales Etc.
Needle felted Wool Sculptures of Airedales, Animals Etc.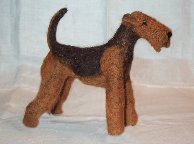 The spontaneous and the unexpected is the essence of my desire to sculpt in wool using the fiber arts technique of needle felting. My needle feltings have hundreds of owners nationally and internationally. I simply enjoy "bringing wool to life" and releasing the results "to the wind" for the pleasure of all those who find joy in the 'touch' of the needle felted wool. Fiber arts are appealing both to artists and collectors who find this tactile pleasure irresistible.
| | | | | | | | |
| --- | --- | --- | --- | --- | --- | --- | --- |
| | | | | | | | |
| Wooliedales | Wooliedogs | Various Animals | Specialties | Woolies for Sale i | Woolies for Sale iI | Minidales | Jesse & Scuffer |
Note: Health issues are preventing me from taking on any commissioned work. Whatever I have already created or might create will be seen here on my website or at auction on eBay.

The Italian Immigrant Figures are still looking for buyers. Check them out on the Woolies for Sale II page.

One of my latest....

Okay, LADIES....listen up!

Experts have observed pachyderms' behavior and concluded that they rank among the smartest in the animal kingdom.

And it seems that the old adage that elephants never forget may be particularly true in the case of matriarchs, who lead the herd and encode what's necessary for survival, such as food location and family identification. The dominant females build up a social memory as they get older, enabling them to recognize "friendly" faces. The older she is, the more effective she is. Her death is tragic for the group, and poachers usually target her, as she possesses the largest tusks in the herd of females.

Elephants also travel in packs and when the group gets too big, the eldest daughter breaks off to start her own contingent, yet she never forgets her roots. One researcher witnessed a mother and daughter elephant recognizing each other after 23 years of separation.

(Good, huh? But forget about this one: Elephants eat 160 to 350 pounds (72 to 158 kilograms) of food each day!!!)

---

My blog also has photos of Woolies I have sculpted recently.
Website and photographs copyright © 2001-2013 by Usher Associates, LLC. All rights reserved.
Revised: 11/25/13 15:12:12 -0500.